TweetKrissy's Story "The Beginning"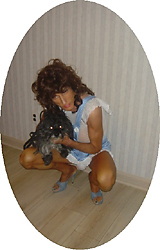 MY WIFE and I had always had a great sex life, very hot, with long sexual encounters.  Our openness with each other and Her natural dominance led to Her unintentionally enslaving me.  Once She realized what was happening, She used that dominance and our experimenting to intentionally dominant me by feminizing me as a "controllable" outlet for Her voyeuristic tendencies and desires.  Her feeling was that with me in that condition She wouldn't have to worry about me doing anything She didn't know about, approve, or could control.  She was right!
It worked great for a while, as i entertained Her by servicing several friends as a domestic and personal attendant, specifically using the oral skills She had trained me in so thoroughly.  I would even do elaborate strip shows to turn them on, and then service them afterwards if they didn't get enough from their vibrators.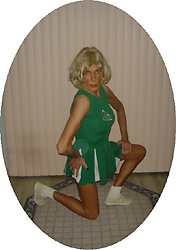 My Wife finally tired of having to deal with any sexual needs i might have and locked me into a chastity, that She would remove when She wanted to use me.  However, this became less and less frequent, and finally stopped altogether.  She informed me that She now thought of Herself as a Mistress, Ret. (retired) and that if I really loved Her I would continued to wait on Her hand and foot, as always, with absolutely no expectation of anything in return, especially sex.  Since she was tired of my whining for release, She told me to get another key holder to deal with that.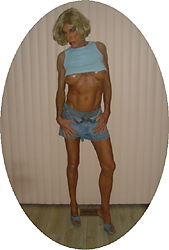 That's when I met Lady Jennifer Anderson.  She is an intelligent articulate dominant, who understands not only the value of chastity, but the need for it with submissives.  I am now a collared slave to Lady Jenny. I am very grateful to Lady Jenny for Her taking control of me and training me to love being a collared, chastised cuckold slave.  I really don't know if I could have otherwise dealt with my Wife's changed attitude without Lady Jenny's help.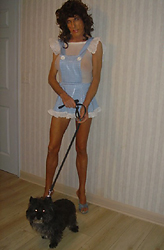 As my voyeuristic Wife sits and watches it all, my goal is to display, publicly, an example of what Lady Jenny's training can accomplish.  Hopefully, this sissy slave, as She refers to us, will be the best example possible.
By completing Lady Jenny's training course, consisting in part of fourteen lessons, this sissy slave should be capable of serving lifestyle Dominants and other demanding women. In the meantime, Lady Jenny continues to concentrate on Her new chastity devices while this sissy serves as the spokesmodel for Her enterprises and the poster child, Her "Mascot" for what the proper chastity based training can accomplish.
This slave is now putting that training to work, as well as receining some continuing education, some graduate studies, from Goddess Nikki Ashton. Goddess Nikki is an experienced no-nonsense lifestyle Domme who expects, and deserves, to be worshipped. Although this strikingly beautiful Goddess maintains several sites that one can access by joining just one, this sissy has been allowed, so far, to become addicted to Her gorgeous feet, and am allowed only to access Her Angel Kissed Feet website. This Goddess has, in a short time, turned me into Her Foot Bitch and this sissy absolutely loves to serve Her. As Her bitch, this slut, besides being trained as one capable of amusing Her, takes care of all her Goddess' personal needs. As Her slave, i suply Her smokes, pay for Her pedicures, manicures and hair treatments. i supply all of Her make-up and other incidential that She needs to maintain Her lofty status. In return this slut gets to serve Her as one and demonstrate to Her friends and family, as well as Her public just what a slut can be made to do in return for this Goddess paying any attention to Her.