TweetI want to wish all my readers here and my followers on twitter a Very Happy Easter Sunday.  I especially want to give an Easter Shout out to Goddess @Erotic Nikki.  It's a beautiful day here and I hope it is where you are too.  Hope you are getting a chance to spend some quality time with your family and friends before you're back to work and the daily grind tomorrow.
As y'all know, I usually do a holiday picture/video shoot for holiday to amuse my Goddess Nikki and wish everyone a happy day.  This year I decided to get into some nice Easter clothes and i am wearing my Sunday Easter best to look like a real lady.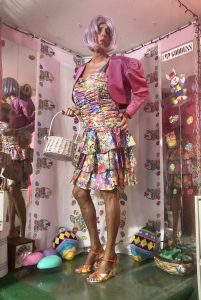 So here is my Easter outfit. Nice dress and jacket in an Easter violet. Hair to match. Put myself in a nice Easter setting, complete with Easter eggs. And, of course, an Easter Basket.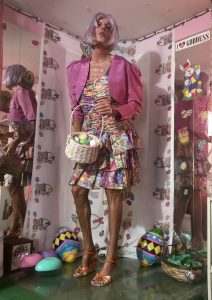 Of course, I am sending Goddess N some Easter goodies and here is the basket full of mostly eggs.
Since I can't send eggs through the mail, i use hollow eggs.  Eggs filled with what my Goddess loves most—money. lol  There is some candy as well, but since She doesn't like a lot of sugar I have to keep that to a minimum and I usually spend most of my efforts trying to find things to put in there that She will find acceptable. I sent it all a few days ago, so I know She received it.  Sue hopes She likes what I sent.
In the meantime, I also did a video clip to show off my lady like outfit, and amuse Her as well.  As always it seems, and try as I might, I ended up being me. As always I am caged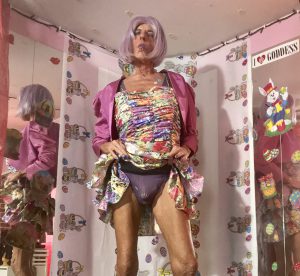 As you can see here through my violet sheer see-through panties. This somewhat limits my video efforts but getting all dolled up like this gets me horny.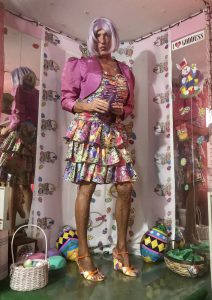 Fortunately, however, I had a big fat violet toy that I could use to help me scratch that itch and amuse my Goddess. And since I couldn't wait to get it in me, I ended up becoming quite a contrast using that toy while still dressed so eloquently.
I posted the video clip on my new only fans page and you can see it by going to http://www.onlyfans.com/KrissyTannen