TweetHope everybody had a Happy Easter. I say had because this Easter message had to be posted a bit late, due to technical problems.. But we are all good to go now. In any event, for Easter an update was posted at my clips store. As you may have guessed lol it's an Easter tome that reveals, at last, how sissy Easter Eggs are produced.  The video starts out with a short slide show. First with the Easter Basket the Easter Bunny is carrying. Actually i'm using the basket i gave to Goddess Nikki.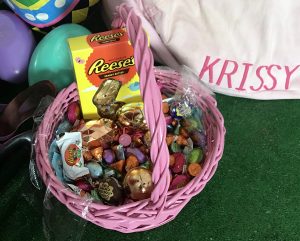 Here's a close up of the Easter Basket. There's all kinds of goodies, but what Goddess Nikki is interested in are the golden eggs which have become a tradition.
Below is a pic of the basket with the eggs opened that Goddess N sent back to me.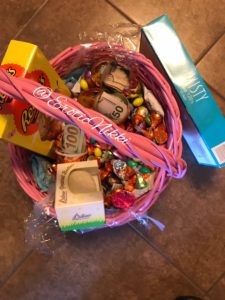 This time with the eggs opened.  In fact they are the only things opened at that point. As you can see, they contain money. While i later learned that She spent on nail care products.
Next the slide show shows the Easter Bunny stripping off her Easter Bunny attire, to be better able to demonstrate how the Easter Eggs are produced.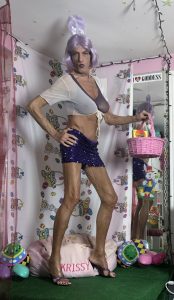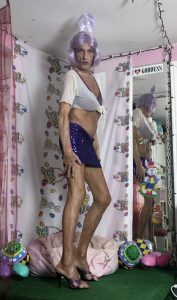 Here i am carrying the easter Basket and then dressed as a slutty Easter Bunny. What other king would i be?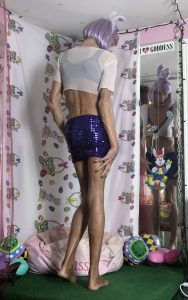 Looks slutty with the tight skirt and tied up sheer top i think, don't you? And then first in the slide show and later in the video i strip off enough clothes to demonstrate.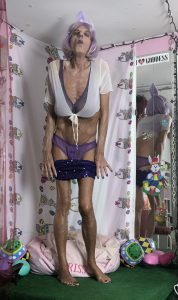 Here i'm stripping down my slutty sequined  skirt.
Here the skirt finally comes off, and i am ready to demonstrate my Easter Egg laying technique.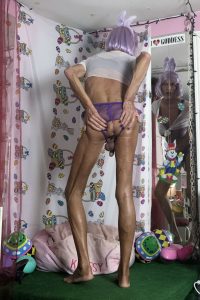 If you look real close, you can barely see the egg emerging.  It was really hard to get a picture of this as my hole has been spread so much the eggs had a tendency to slip out when they got to that point. But next came a a video clip of this sissy bunny striping down as in the stills and then demonstrating her Easter Egg laying skills. By the end of the video segment i had laid five Easter Eggs and my nest looked like this.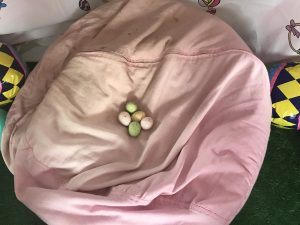 So there they are. Laid eggs!! It was a little difficult carrying around those five eggs inside of me. But i think that y'all will get a kick out of seeng me lay them. Hopefully, Goddess Nikki will appreciate my effort.
And speaking of effort, a lot more went into the Easter Epilog to this movie. Then 9 minutes of me myself to exhaustion, As i explained in the epilog, those eggs rolling around inside me were like having five Ben Wa balls in me. And by the time i laid those Easter Eggs, i was really hot, and needed to get some relief. So all in all this holiday clip is a montage of effects, from the slide show to the "cute" sissy exhibition to an all out fucking. A good day's effort for a sissy slut like my Goddess likes, and i need to be.