TweetWant to wish all my readers here and followers on twitter aHappy St. Pat's!  I especially want to give a St. Patrick's Shout out to Goddess Nikki on this day of celebration as well.  Usually people want to head to their local pub for a celebratory gathering of some kind, but it being Sunday, that may be a bit harder to do.  But there are plenty of ways to celebrate this day meant for such things.
In the meantime, however, one can still celebrate alone by finding their favorite spot on the net and watching something to get them excited–without or without green beer.  Goddess Nikki has numerous sites one can do that.  But i also have a few places for that as well.  And as is usually the case, i shot some pics and a clip with a holiday theme.  Those who know me, are aware that i do clips for all the holidays to muse my Goddess by entertaining anyone who wants to watch.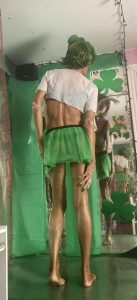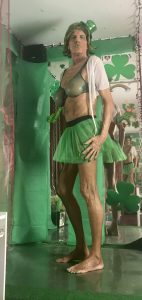 This year the leprechaun makes a return visit to my video clip collection.  Hopefully, this clip will be something that amuses my Goddess, as well as others who see it.  Check out my cute sheer shamrock shirt and see through top.  My favorite part, and it's what makes this leprechaun come alive, is my super cute St. Patrick's top hat!
As one might expect from a sissy slut like me, i n this clip i strip off my clothes, at least enough of them to be able to use a toy.  A green one, of course.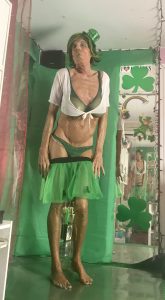 At left i strip off my skirt so that i can use this cute green dildo.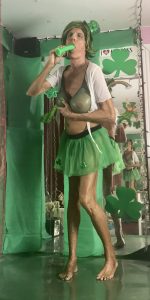 I start by spitting it out of my hole, whee it had remained inconspicuously hidden until i was ready to reveal it.  I am so stretched out these days, after my last few clips especially, to keep it in there!!
But once it is out i ram it back in me and then into my wet writing tough to savor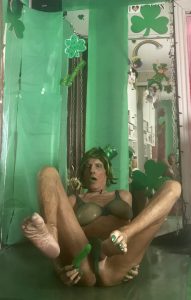 both the smell and taste of this green toy! Repeatedly, i run it up my hole, pull it out for a to mouth action, and then repeat it several times.
This year and in the future you can see my pics and clips at my new only fans account.  That's right! One can see all of my great graphic content at
http://www.onlyfans.com/KrissyTannen
Check it out. It's only $9.99 to see whatever i happen to post there on all holidays and any other times i post.