TweetValentine's Day is always special to a subbie and her Owner.  A great day to show that special person in the slave's life, how important She is.  But to Goddess Erotic Nikki and i there is more to it that just that.  This is the anniversary of Her taking charge of my key and caging me.  It was 14 years ago today that Goddess Nikki took ownership of me.
First, i want to thank Her for molding me in the image She wanted.  i love what She has done with me, and what i've become, although it was not my intention to be changed like i have. When this all started i had a nice sized strong stick and i had been using it with several Women.  Now i have been noticibally emasculated and am caged most of the time. i am allowed no sexual contact or release and i have been reduced, or is it enhanced for someone like me, to edging annually only to images of my Goddess and the big hard cocks that i fantasize She is ordered me to service.
If you read my New Year's Day blog then you know that i begged Her to turn up the heat by taking complete control, thanks to today's technology.  Since that time i have been caged and have started using my tribute box when i edge.  The lock is open and  my keys are inside.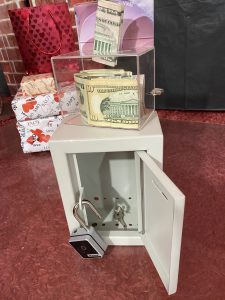 One for my chastity, and one for the tribute box.
Goddess Nikki has agreed to assume a more complete, but now pretty flexible, control of my now little stick. i of course, sent Goddess N some Valentine's Day gifts, and with those gifts i enclosed Her set of keys.  She should have them, son't you think.  In the meantime, mine can be locked until She opens the lock remotely right from Her iPhone. i am sending the information for the downloading of the app necessary to control the padlock and We/we are ready to go, when She gets up to speed.
In the meantime, i am doing what i always do, i.e. shoot a kinky humiliating video clip for the occasion. This year, the video depicts Cupid's evil twin, a slutty sister, that puts her own twist in the tail, so to speak.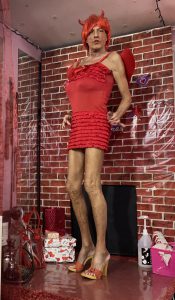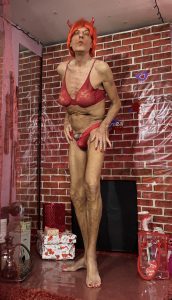 i have posted some stills from the video clip on my only fans page, address below, along with an eight minute video, as per usual. i am really getting hot due to Her turning up the heat. And iu will continue to beg Her publicly here for what i know deep down i need.
So Happy Anniversary, Goddess.  Thank You for fourteen years of Your being in my head and turning me into the sissy slave that You can use and allowing me the honor of serving! http://www.onlyfans.com/KrissyTannen