TweetA few weeks ago, Goddess Nikki posted a pixelated clip that was meant as a tease for all of Her devoted fans.  It was good as a tease, of course, but by paying a sizable tribute Goddess N unpixelated that same clip for Her number one subbie. In this version, everything, and i do mean everything was clearly visible. Goddess N, however, decided to carry things one step further.
First, i was allowed, after two years, to remove my chastity. That didn't mean that i was allowed to masturbate or otherwise get off.  She told me, and i quote, to air it out a bit. She likes to really test my resolve by putting me in a position to easily disobey and how i do.  And in this case, She wanted to see, what damage She'd done. Just how small and weak my stick had become over the years.  She was demonstrating, i'm sure, that i had been been trained and emasculated so well that i would be small and not be getting hard even looking at Her!
Of course i had to show Her and i filmed a clip of my response.  Here are some stills of that clip, which is entitled Anatomy of a salve.  Checking my anatomy physically and mentally.  I start off dressed like this, and then do a strip.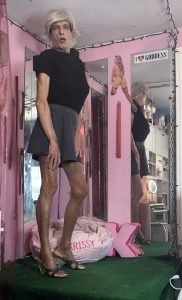 I look liked this as a tell the viewer about the clip and what is going to happen.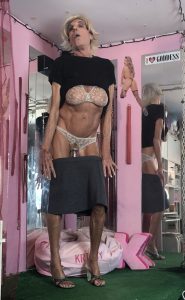 Next I start to strip off my clothes.  What else is new, and that's the way Goddess N likes Her sissy slut.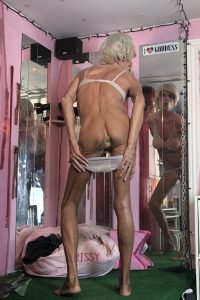 After i get out of my clothes, everyone will be able to see how my stick is doing after all of this time.  All of you wanna-be subs should take particular note of this.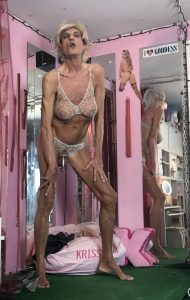 Initially i am still wearing my chastity. The one I've been wearing all of that time.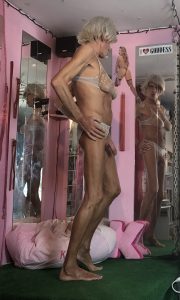 As you can see, it's not much to get excited about after all of this time.  But still a little bigger than i was fearful it would have become.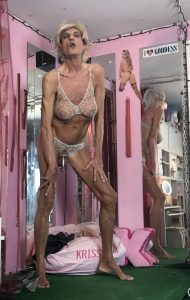 But next, She had me watching the movie clip and i start to go through my progressions, so to speak.  First after watching it once, then twice, and so forth, until i get to a point of several hours.  And by that time, believe it or not, prissy's stick still had a little life.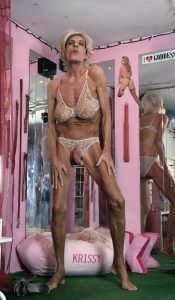 Here is our gal, at right, showing off her stick which still looks nice, lol, after i've been exposed to Goddess N's womanhood in full color up close and personal.  It just shows the power She has over me.  This, however, was not especially pleasing to Her though, and so without even allowing me a stroke, She put me back into a small cage that i had.