TweetAs you may recall, i made a clip a short time ago call Poppin' Off.  Made this when, thanks to some late night tweets by TS Jamie French I discovered the benefits of "poppers" to those like me.  It seems that these little darlings are an incredible intensifier to anal pleasures. Especially when paired with big fucking toys that she called intruders. So wanting to find out for myself I tried it, and as I said then, Wow oh Wow!
Well, turn the clock to Labor Day Weekend. Of course, I did my nail and toes in red.  Come fuck me red.  Red nail polish, especially red toenails, always get me hot and wanting to watch them as I slide something in my fuck hole. So it was time to pop the intruder in me so to speak.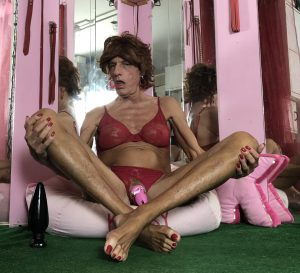 So here I am painted up in red with my big plug intruder.  This thing feels awesome enough without any help, but the poppers, much to my surprise, make it even better.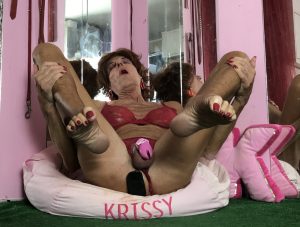 So in this clip, using the poppers for extra energy, I ram this big plug in and out of my hole until I was exhausted.  It felt so good as it was literally popping in and out of me.  It was awesome, and that was apparent.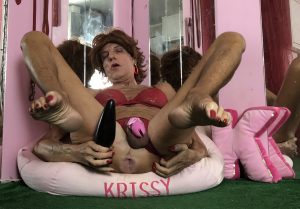 And when all was said and done, I was left with a hugh gasping hole, and a look of total pleasure on my exhausted face. If you like seeing a sissy fuck herself silly, you'll love this one. Buy it on the side bar at left or visit my store in the menu at the top of this blog.