TweetToday i want to Wish Goddess Nikki a Very Happy Birthday.  This is a big day for any of us on our Big Day, and it is every bit as important to a subbie slave like me as it is for my Goddess.  So i try to mark the day by doing what a Goddess loves best, as She has told me many times.  Give Her things.
This year We/we talked about it before hand, as She hadn't said anything about what She wanted.  The first thing She told me about was a really bad ass vanity.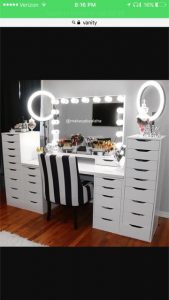 This vanity looks like some type of cockpit or something. As one can plainly see it has a bunch of places to store things—out of sight.  As most Women can attest to, their vanities are piled with all sorts of make-up and application devices. Most of those are sitting there because they have no place to keep them.  This vanity solves that problem. And all the things are within arms reach.
The second ting needed is a good mirror with lots of light, so one can see what she is doing.  This mirror is big nd well lit, obviously.  However, since, Goddess N is moving to a larger space at the end of the month, She decided that She didn't want it until She was moved.
Since Goddess N had decided to wait on that for a few weeks, i felt that She couldn't be left with nothing to open on Her big day. Therefore, I decided to send Her some extra gifts that She could open on Her birthday.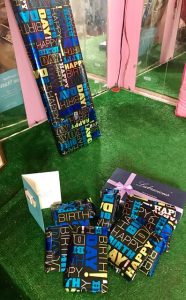 At left is what i sent Her a few days ago. She received these the other day, and I think She is waiting for Her birthday to open them.  However, She is absolutely devoid of patience, so i'm not sure about that. lol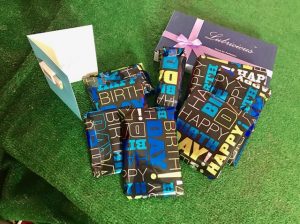 If She decides to open them with me as She often does, If she decides i will probably be, as i often am in the ate evening in a bra and many set.  If She wants me to do a strip, i can easily put on a skirt and crop top for that.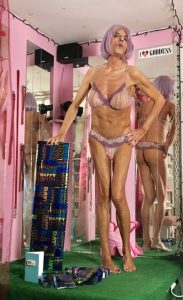 But i'm planning on starting on this for sure.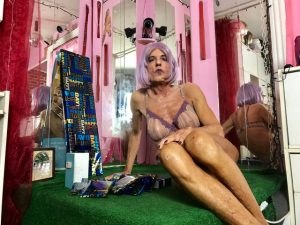 Happy Birthday Goddess!! Sure hope Your day is special and You like my Birthday gift tributes