TweetWishing everyone who follows me here or on twitter.  Special St. Patric's Day Shout to Goddess Nikki nd Her family on this festive day.  Perfect that it falls on a Saturday, right? Now everyone cam go out and drink green beer or whatever else they drink on St. Pad/s. i'm working on some payments on the Goddess credit cards, etc. She will be traveling soon.  Hopefully, by the time She gets back i can get Her the new camera (i want one lol) that She wants.
But in the meantime, it's St. Pat's so i sent Her $50 toward a dinner for Her and Web God.   Also, i did an update to my clips4sale store that my Goddess is sure to love.  She recently, made a comment to me, almost a throw away comment, that i was being lazy.  i really didn't agree at the time, and i was a little whiny about some other things   Also, i've had some problems in my other life.  One of my doggies, my personal buddy lol has serious medical issues. So i've been distracted.  But when i thought about it, She was right.
So right here, publicly lol, i will start to saying to Her, that i love Her and i'm sorry the You felt that way.  i know that you're serious s i haven't heard a peep out of You lately.  So i decided to dispel the rumor that i am being lazy by doing a vintage St. Pat's clip that i was sure my Goddess would appreciate. In this clip called St. Patrick's Day Green, krissy the Leprechaun shows us her free clothes, green money, and green been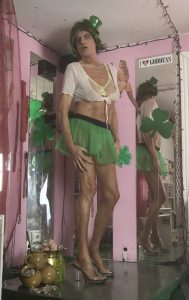 Here i am at the start of the movie.  i love this leprechaun outfit that i put together myself.  The skirt is just so cute. Shows off my tan legs.  After all that is my name. lol  Next i love my top hat and i have St. Pat;s shoes.  Green nails and toes (did i say it right ladies?)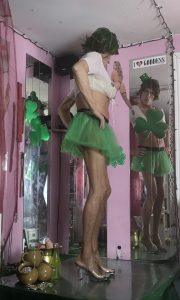 i love my legal in this kid of get up. Isn't that the point of being a sissy, Goddess?  i give y'all a quick view snd that includes my pot 'o gold!  Two actually. One hd my modern day leprechaun's diversified portfolio, jGold, silver, and American green backs, for the day.  The other had my favorite toys.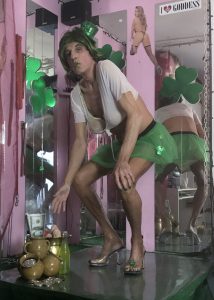 Here i m, showing off my Pots O Golds. But if you look close, you'll notice some green beer.  i felt it was an appropriate prop.  It kind of gave me a warm feeling, because back in the day, Goddess had called me on Thanksgiving from a party at a local restaurant.  They were drinking and i was sitting a home.  She wanted to know if i could get a bottle She was hold in a pic She sent up my hole.
They all laughed n d had a good time with it.  By New Years's i sent a pic of me doing it.  But that was a long time ago.  Perhaps as a result, i decided to have some of the green beverage i's bought for the occasion. krissy is not  drinker. i'm diabetic. But i decided to have some,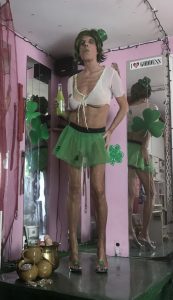 It wasn't long before, what had been a short picture iAs i began to feel it i began to get horny.  i am, as always locked up tight.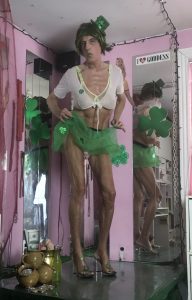 Therefore, i did what sissies do.   Especially ones that are all dolled up and horny. i decided to use the toys in my second Pot O Gold, and, of course, film it my Goddess N.  i continued to drink throughout this clip and by the end of it, i was in the mood to do something more spectacular. A throw back to the days Goddess wants, i know. So drawing on  an old theme i decided to duplicate my feat of years ago.  It had been a long time so i wasn't sure i could do its. But after some effort i finally filled myself up with the big end of that bottle. .  It felt, and looked fantastic.  This is one my best, and most graphic ,moving in a long time.  Own it out by using the side bar and clicking on it in the left hand, most recents.  Or check out my entire clips store, and that of Goddess Erotic Nikki  by using the menu bar at the top of this blog.