TweetHey Everybody! i'm in Issue Issue 84 of Forced Womanhood Magazine!!!  It's a thrill, and honor, to be included in any publication affiliated with Centurian. These folks understand what our community is all about, and they've been supporting us longer than anyone.  So we need to keep them in mind, even now when the internet has changed the landscape.
I especially appreciate the love given me by Editor Hanna Rodgers by including me.  She has made herself available via e-mail as well to answer my questions and accept my submissions.She even "comped" me these issues because i was in one. Pretty cool on a couple levels.  So thanks, Hanna.  Forced Womanhood has always been interesting for sissy cubbies like me. And, of course is a turn on to many as well.  So when i received these issues, I wanted to settle in any have a look. And I thought I might as well turn on my camera so I could show everyone what it is like to be an internet sissy like krissy—and to amuse Goddess Nikki.
So here i really have not looked at the magazines yet because i wanted other sissy types–or Domes might like my submissive attitude too–to see what's it like to be a real internet sissy submissive.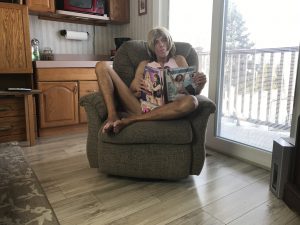 So here I'm relaxing in a nice big rocking recliner in front of the doorway that goes out to our bedroom balcony.  My thought process was that this would be a nice sunny spot to relax and read–and otherwise enjoy myself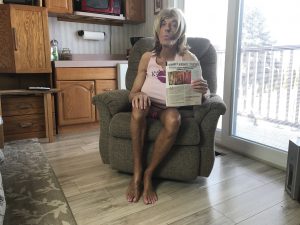 ! lol
Eventually i came to the spot that touts me as the Exposed Internet sissy slut that i am.  Shows me as Goddess Nikki's foot bitch. Hanna requested some pictures when she approached me about this and i was understandably interested in which one she choose to include.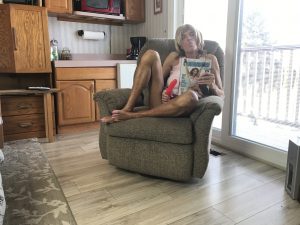 So, as i said you just knew the ubiquitous dildo, a pink one of course, that i had had the foresight to bring with me, appeared. After fondling my tits for a time i got that thing in me, where it belongs.
And this clip ends in me fucking myself right there on that chair! See for yourself by purchasing it here.