TweetJust wanted to say the i posted a new clip on my C4S store.  This one is about my new appreciation for the old school poppers that seem to be making a resurgence these days. As some of you may recall they give to a bust of a kind of energy high that, as it turns out, is get for anal play.  Guess that's why it has been refereed to as a "gay drug."  They left out transgendered sissy sluts like me.  I tried using one, several times in previous to enhance the intensity of my self fucking with my toys.  Found out why they call them that as they seem to actually call for an anal, cock driven, response to their affect.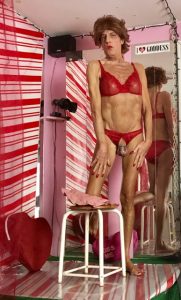 This time, and i'm sure there will be other times as well (lol), i tried to let the viewer see what it is like. Much like they would do in a movie.  So dressed like you see me here i use several toys and finally end with a popper.
What i was attempting to do was give the viewers a look at what it is like for me.  Time slows down as i am so focused on the intensity of the and play. So i decided to slow down the video for the "trip" into the zone papers create.  Fortunately for y'all you a get a slow motion up close and personal view of me driving my big toy cock in and out of my slutty hole!  Nice shots of my legs, feet and soles as well. Cum see for yourself what it;s like.