TweetWell Christmas is tomorrow and i am spending the Night Before Christmas making a video.  This clip re-visits the Candy Cane Slut in the third appearance of this character.  If you recall, the original, entitled Big Candy Stick was filmed at Goddess Nikki;s request so it could be posted on the We Whip Ass site.  That clip was more successful than any of the others and I heard from many folks, many of them Domes, about it years. Several years later, but several years ago, i did the sequel: Candy Cane Slut Too.  Now i thought it was time for the third installed, which is the title of this blog.
Beside the fact that it was well liked, i am extremely hot and horny from being caged. The clip takes place on Christmas Eve, and is set among the gifts underneath the Christmas tree.  A sissy tree, of course.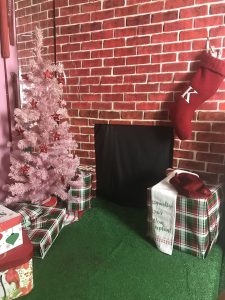 Here is the sense set at the beginning of the movie.  i hurriedly enter and because i am hot, and have been waiting for this night for awhile.  i had asked Santa to leave me some big sticks to play with and satisfy myself, just as i had done so many years ago.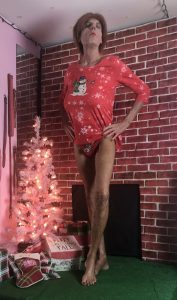 Here i am in my nightshirt, my Christmas shark bite night shirt, after getting downstairs t the tree as i couldn't wait to see if Santa had left the big sticks i asked for. He did, and since i was so hot and horny i decided to use them without even waiting until morning.  The shark bite tee is perfect for showing off the reason for my extreme heat. Namely the extremely small chastity that Goddess N now has me caged.
You can see both the oversized candy sticks in my krissy stocking which is hung, unlike krissy, by the fireplace.
You also notice the super large 2 lb stick in the other stocking on top of the gift thee.  That candy cane stick was too heavy for the stocking hung up by the chimney with care. lol  If you look close you'll also notice Santa's attempt, and a good one, at humor when he left the towel with the "I can explain" box checked on it.  This tool is something i needed at the end of this one.  i'm so hot, first i use the sticks in the stocking—all at the am time, before turning my attention to the 2 lb giant. i spend quite a bit of time rating this hugh monster up my hole, and then in and out of my stretched out hole.  By the en of the clip i am spent and kind of a mess. But it didn't matter, and i am quite satisfied. This is the scene when i was done.