TweetWishing everyone a Very Happy and prosperous New Year! i want to give a special Shout Out to Goddess Erotic Nikki. Also my readers here and followers on twitter.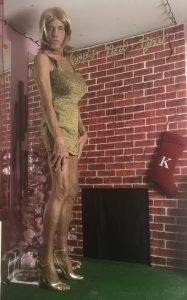 As the New Year is upon us, i am making a resolution to re-double my effort in serving Goddess Nikki and also to more religiously adhere to my restrictions and submissive state of mind as far as She  is concerned.
So i decided to start by dressing up in a nice glitzy New Year's outfit for the occasion. Even wearing heels. Beautiful long gold glitter nails, done with polish She sent. Dressed in this fashion i also decided to film a clip, as She likes me to, and show off some of the things that ill make this year more production.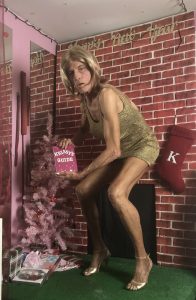 First, i am going tottery to follow all of the suggestions put int the guide by Goddess N on the calendar inside I will post the calendar pages each months that i, and everyone else, can see where i am headed.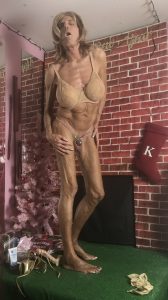 One of the reasons that i think i can do it, is my very restrictive chastity that i have recently purchased, with Goddess N's help and approval.  Look how restrictively small this device is—and it is secured closely to my body that any thoughts of anything other than sissygasms are a thing of the past.  my chastity is also way cuter now, fits into my sissy panties, and fits my lifestyle and the direction Goddess N has planned for me.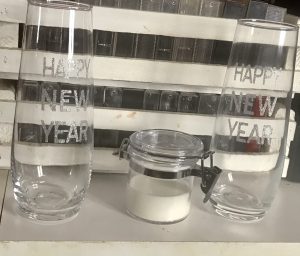 Before toasting the New Year i show off and expelling my Guides, both my written guide and the physical chastity guide that will continue to persuade me to do what i am supposed to.
There are some New Year;s toasting glasses and the cum i have collected by aging for the past few months.  i am going to poor that cum into a glass and toast the occasion.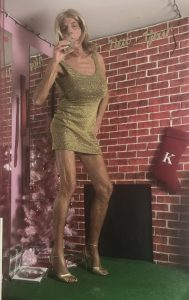 Tastes good as i begin to drink up. Tastes better with the next sip and as might be expected, however, what was supposed to be a classy New Year's tribute turns into something more.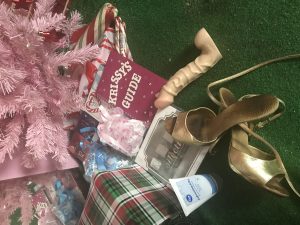 Cum take a look at my new update at my Clips 4 Sale store!!  http://www.clips4sale.com/store/7812