TweetHAPPY NEW YEAR!! And as a New year begins, it is the usual tradition to make resolutions for the new Year. And in my case i both need and deserve to be made to make a resolution to be a better submissive for Goddess Nikki Ashton.So as this new year of 2021 begins,  So here is @Erotic Nikki's pink sissy on January 1lst in the year 2021.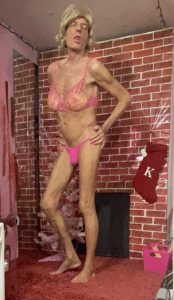 It's been awhile since I have posted here.  Hate to admit it by I've been posting on Only Fans instead.  It is quicker, and easier, but does not allow for the detailed posts I used to make here.  It is about being busy and the ease of posting there.  It is also, unfortunately about getting a bit lazy, in an effort to save time.  It's an attitude that is not conducive to being the best I can be, and is symptomatic of a real problem for being a good sl
As we all know one needs to be totally turned on and without any way to do anything about it.  We need to beg and plead with our owners for release, or just just be content to wait until our owners deem it appropriate or necessary to get the bet out of us.  Knowing this, after years of service, I also know that it is pretty hard to keep tabs on, even if the Domme and slave reside together, let alone when they do not. After Goddess Nikki and i giving this considerable thought and discussion over the years it seemed almost a futile effort.  But krissy, being well trained, and dedicated as well, knew that while i enjoyed some amount of freedom there needed to be changes if i was to assume my real potential. Therefore, this post is intended as an open letter to my Goddess, Erotic Nikki Ashton.
Dear Goddess Nikki::                                                                                                      This letter is a shameless attempt to beg You to take back the control You deserve and that this subbie so desperately needs.  I so need to be locked up by You permanently. To only be released at Your discretion.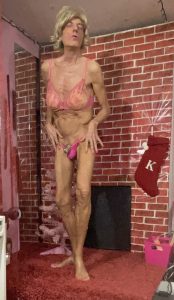 Please Goddess consider giving me enough of Your time to again make me become a panting slut for You that i was meant to be. To publicly humiliate myself in Your honor and for Your amusement. I agree and want to be plugged as necessary as well, and need to be spread as wide as You can get me.  To end up dripping in anticipation of Your getting a plug in my hole.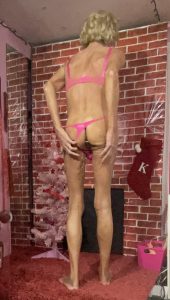 I have after much research found the tools necessary for You to  exert Your total control over this sissy slut.  First i found a blue tooth lock manufactured by Master Lock.  This lock can be locked and unlocked from an app on Goddess Nikki's phone. Imagine that.  The key can now be locked securely away, but be readily assessable from any place Goddess N happens to be.  Here is a picture of the the locking device.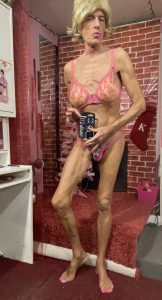 As one can see it is a durable master lock, but with a blue tooth capacity, that can be unlocked in an instant. the code and be shared with another as well, and then re-set to another code.  That would have been great when I was coming with TS Nitrilla and just recently with Mistress Lillith. This all sounds easy enough, but then next step, which proved somewhat problematic was getting something with a hasp big enough to accommodate the nice big shaft of the master lock.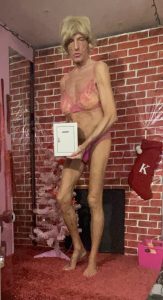 This key safe is totally secure, and nobody is breaking into the lock or the safe until You say Goddess.
i want to give You my best efforts always and while it becomes hard sometime, with all that's going on now, and even in more normal times, to keep focused, being caged will keep my attention directed where it belongs–on You. It's obvious that being caged like this will keep me hot and playable and doing my best for You. Even though it gets difficult and frustrating, i need to be kept dripping hot at all times in order to be at my best because i;m so pathetic . i know that i have been made this way by Your past training. But instead of being upset because i now have trouble getting hard and only feel right when i's caged, i am grateful, and i am humbly requesting that You totallymentally emasculate me.  Make me Your little bitch girl desperate for a sissygasm. Hoping to please You enough to be allowed one, all the time only being allowed to edge.Knowing full well that this only reinforces my dependence on You  further reduces any normal urges in favor of my new identity.
i fully admit that solely because of You and Your training i need cocks. i need those cocks in my new slutty porn persona.  i spend most of my edging time looking at the big beautiful cocks of TS women. Would love to find one to suck for You, Goddess!. Since there's no sissygasms without Your approval, it seems that i will be edging a lot to those big giant beautiful sexy hot cocks. When i'm not using pics or vids of You, usually to get me in a cock sucking mood.
Now my edging is probably a good thing for Your purposes.  It definitely keeps me hot and, more importantly, continually horny, and You don't have to be bothered by any of it. That doesn't mean, however, that You shouldn't benefit directly from it, so in an effort to deal with that i had an idea.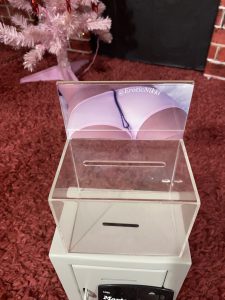 The tribute box. A cousin to the tip jar, i guess.
And here it is to the right.  It's a clear box with a slit, sounds like a good way of putting it, on the top, to drop my tribute in.  my idea, Goddess was for me to have to drop the cash tribute through the top each time i edge.  It wouldn't have to be a huge amount to edge, because i will edge a lot of nights, and when i edge i do it many times each session.  It won't take long before that box gets full as my blue balls.  Then i can despot it when You want and send it over.  That's in addition to my credit card You have. i'm sure You recognize the pic of You on top.  Seems appropriate.
So please cage me permanently, Goddess. Totally destroy what is left of my woman stick and totally emasculate me.  Please plug me as before, when i was plugged for two years straight. We have the internet plug with it's phone app to use when You deem it appropriate.  i want to be so worked up that i will willingly, voluntarily, and gratefully do the deprived things that somebody at my stage has to do to attract any attention. After the pandemic passes, of course, i'd like to think You would sit on my face. Piss on me, and without getting too graphic otherwise train me as a full service toilet, Goddess. i read somewhere that a slave should want anything that comes from their Dominant Owner and being a toilet proves the total subjugation. I agree. And i deserve that type of treatment. And You deserve that type of love and devotion.  Please make me the panting slutty cum eating toilet that i've become inside and need to be for You on the outside too!
With  Devotional Love,
krissy