TweetRecently Goddess Nikki decided to put me into a new chastity. Ostensibly, the reason is to reduce problems for Her in removing the metal one when i passed through metal detectors, but i think She like the sissy pink color. lol It does work quite well in keeping me away from my sissy clitty.  And as She points out, it looks so cute with my outfits.
To show it off i decided to make a clip to post at my clips store showing it off. The clip begins with me explaining the situation, as I have here.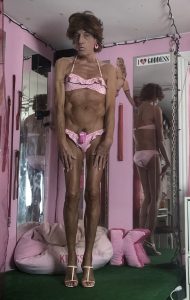 I am dressed as i am here (left) when I first expose it to view.  Others like me will agree that it looks cute with this matching pink outfit.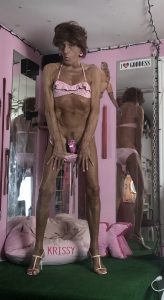 Eventually i strip off my panties to fully expose it–and use my sissy hole. What else is new. But before that i rub lotion on my legs and feet.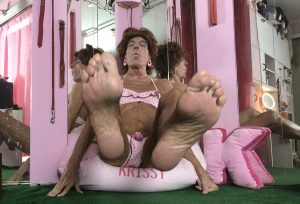 Here i am while while rubbing the lotion and showing off my legs and feet.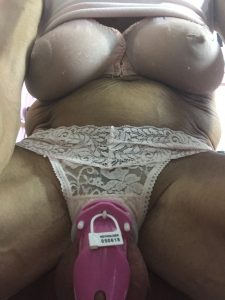 I later took the close up (right) to give y'all a good look. But sissies, subbies and slaves, as well as some Domes, will like this clip.  It is a good representation of what it takes to be a sissy subbie to a Dominant Woman such as Goddess Nikki.  Click the link on the left hand side bar of this blog to purchase.  Or to navigate directly to my clips store for all my clips click on the button on the top menu.