TweetAs some of you may know my birthday was a few weeks ago. i am one lucky slave because my Goddess send me a couple of packages for my special day.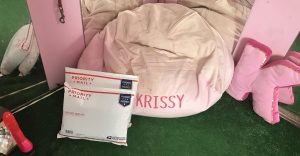 Since Goddess Nikki said She would meet me on cam for the occasion, i had things ready when She called. Things started out with me providing the evening's entertainment doing a quick strip, and i ended up looking like i do here,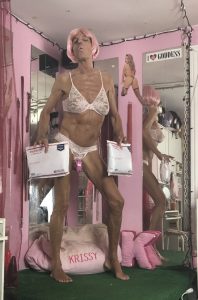 holding the packages.At that point i opened the gifts from Goddess N, which were quite interesting.  The first package turned out to be a micrometer.  Most of you probably know it measures the diameter, or thickness, of things that are round and hard t measure.  She gave it to me so that i could measure the thickness of my toys. lol  What a hoot.  And it's digital so i will be able to tell you when I do a clip how thick the toy is that i am rating up my hole, speeding it out. Can't wait to measure a couple things that i have not been quite sure of.
The second package was four pairs of leggings. As y'all probably know, leggings are all the range. And since Goddess N felt like they wanted to see what i looked like in them, She send them for my birthday.  Her idea was for me to wear them with some heels and to achieve a trashy trendy kind of look.