TweetCan't believe that Labor Day arrived and Summer is almost over.  As per usual I am using the holiday as a reason, and a backdrop, for a video clip. As some of you may know, Goddess Nikki likes me to do video updates on all holidays.  She likes to keep us visible at those times and she is usually amused by what i come up with.  So this is the outfit that I wore for Labor Day.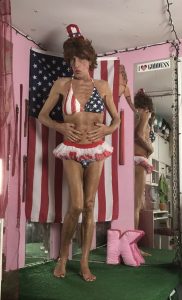 Cute outfit for a sissy subbie, don't you think?  But beside the obvious patriotic American theme the extremely short skirt lends itself to the clip i was doing.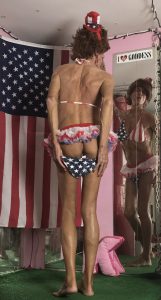 Views from the front and back shown here.
The plan was for me to strip off the panties so that i could use the plug that i was wearing. As always i am still caged in my pink chastity.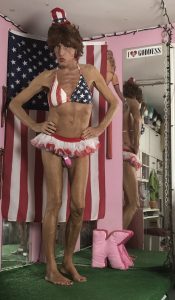 See how the short short skirt reveals so nicely my chastity.  It also allows me to use the plug in me unfettered by any clothing, as well.  And since I am caged, as  always, I can only think about having a sissygasm anally. So i literally pull up a chair and sit on it to grind on my plug.  Thus the name Labor Day grind. Slaves, subbies, and sissies will appreciate my predicament as well as my forced solution to see how a slave deals with her situation. My Labor Day clip is shown in the left hand side bar, and my entire clips store in the   menu at the top.