TweetA few weeks back, Goddess Nikki suggested that I shave my racing stripe.  She didn't exactly order it. Just a suggestion that She thought that I would look better, or maybe it was different after all this time.  I have had my racing stripe for many years, and I like the edgy way it looks.  But if Goddess N thinks i was look better if my pubic area was bald, who am i to disagree.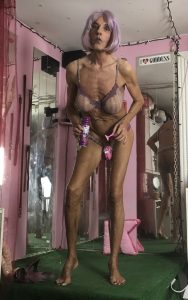 So I decided to surprise Her and shave off the long time look that i had been sporting for all these years to please Her, and surprise Her before my visit with Her. Here i am, at right, with my matching purple razor and shaving cream.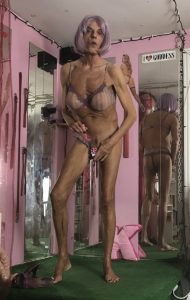 i decided to shoot and post a video clip at my clips store.  Another of the day in the life of a sissy subbie clip that I have begun posting lately in an effort to show what i go through as a sissy slave to my Goddess. i thought that others like me, or other wannabes may enjoy, and even lear from, by viewing my situation. Since i was already dolled up, i decided to also rub lotion on my legs and feet. Great close-ups of my legs and feet, especially my toes and soles!