TweetIt finally met up with Goddess Nikki and Web God Mike just before Thanksgiving.  my Wife and i spent five days there. Taking in a few sites we haven't seen before and most importantly meeting up with Goddess Nikki. In fact we spent the better part of four days hanging with them. Had so fun fun, we all got along so well. It was truly an incredible experience.  The entire time there was fantastic on this visit.
The very first evening Goddess N and Web God took us to Fremont.  Hard to believe that wed never been there before, I heard and read about it.  But one relatively new venue there was a must see for me.  The D Las Vegas is a place that is all about Detroit,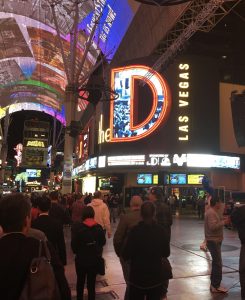 Here it is as seen from Fremont. It really wasn't as much about Detroit, as it is advertised to be.  There some Detroit restaurants, including one of our two coney places. But Goddess N and Web God know their way around Vegas and it was easy to get over there to see it, and the four of us had a good time looking at all the incredible sights there, many rather bluntly porn like. It was a good jumping off point to this visit.
The next day we did some gambling and waked around a bit. Goddess N and Web God picked us up and we went and did dinner with the two of them along with Their son and his girlfriend.  Very nice couple and again we had a real good time talking and shaping stories like old friends. And so it went for the entire time we were there in town.
But as interesting as that may be, what y'all really want to know about was prissy's meeting with her Goddess. i wit to her very nice spacious apt, and as one might expect there were chores to be done.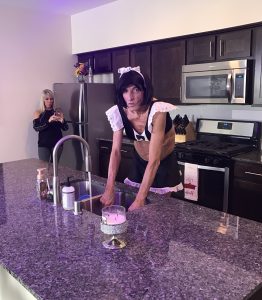 i'm doing dishes here, and Goddess, whom you can see in the background, was taking a short video that She will eventually post somewhere, when Web God, who was taking stills, snapped this pic. We agreed that i needed to return soon and spend a few days doing housework and perform other services soon.
As a reward for my work, Goddess allowed me to allow me, if i was able to attribute Her properly, as courses, to worship Her beautiful, sexy, Goddess feet.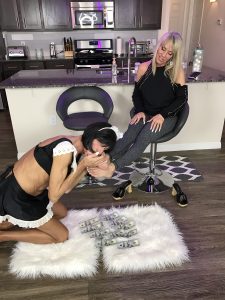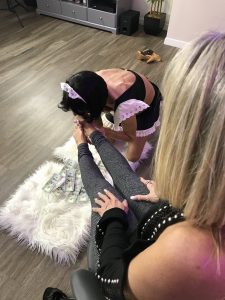 Here i am finally doing what i have wanted to do all these years, show Goddess Nikki how i feel about Her by worshipping, by kissing, picking and sucking Her Goddess feet!!  And best of all, you can see what happened because Web God was busy filming it all.  That was very cool in and of itself.  i felt like i was on a porn set. Web God was busy filming from all angles. Shooting close ups so close that i knew he was there doing it. But he was able to do it and not be intrusive whatsoever.  Their experience certainly showed itself off on this occasion with an amateur like me. i was not in the least bit distracted from my tasks. lol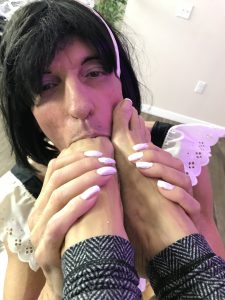 Their home is perfect for taking pictures and shooting movies.  It is spacious, modern, and Goddess N has it fixed up perfectly to live comfortably, and shoot Her clips. Web God knows exactly where to be and what angles to use, and has things set up to accommodate their movie schedule.
After i was allowed to worship Her feet, enjoy their last and aroma, savor their softness and otherwise fill my senses with Her essence, She surprised me totally by allowing me to kiss Her gorgeous Goddess behind. i" share a pic of that next time. But now i want to encourage y'all to get this clip. Goddess N has posted it in Her C4S Clip Store, and it is selling quite well.  i am absolutely thrilled that the clip in which i was allowed to be a part, is doing so well. This clip can be purchase right here on my blog by checking Goddess N's updates, in the left hand panel, for the clip entitled "Opportunity of a Lifetime." . She posts many updates so it this clip has been replaced by a later update, Her entire store can be visited by clicking the button in the top menu, and scrolling to "Opportunity of a Lifetime."