TweetLast Time I was telling everyone about my visit with Goddess Nikki in Las Vegas. How much fun we had hanging out together for a few days. I ended up talking about the video clip We/we made together which Goddess Nikki entitled "Once in a Lifetime Opportunity." It was a clip about my reward for doing chores. That reward was to be allowed to worship Her beautiful Goddess feet—after paying a tribute, of course.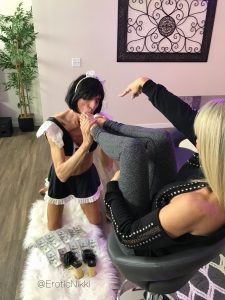 The clip starts with me on my knees before Goddess Nikki, and after paying my tribute by placing it at Her beautiful Goddess feet, She give me the command to allow my worship of them.
It is unbelievable to finally, after all this time, to be allowed to worship them, and it shows in this clip.   i begin by kissing them, and i am soon slathering my tongue all over them.  They taste and smell so good.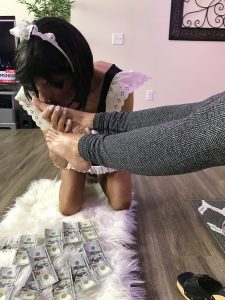 i kiss and lick every inch of them savoring what i have wanted for so long. my Goddess turns Her beautiful foot this way and that, showing me where She wants me to concentrate my efforts.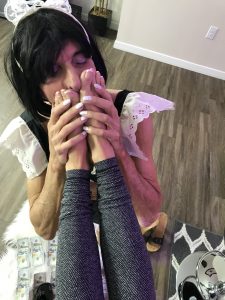 Eventually i end up kiss and licking Her toes, concentrating effort between Her gorgeous toes to which She gladly grants me access.   Eventually as We/we near the end of an epic journey, She asks me if i am going back to spend a few days to really take care of all the chores that need to be done. The cleaning, the laundry, the cooking, whatever is necessary. Of course, i agree!!  And as a further incentive She allows me to plant kisses on Her sexy Goddess ass.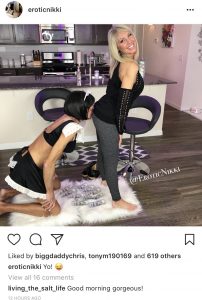 Here i am, seen right, being allowed this unexpected treat.  A few days later, She posted this pic on Instagram, and at the reading shown here there were already over 600 likes.  What is better even yet, is that Goddess Nikki decided to use this picture as the image for Her AVI.  It is such an honor, and just pretty darn cool, to see that picture displayed with all of Her tweets.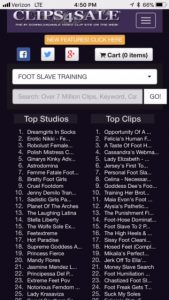 As far as the clip itself. as can be seen from the Clips 4 Sale Top Clips, our clip is #1in the Foot Slave Training Category. That's awesome. But better still Goddess N also posted the clip in a second category in which it rose to No. 21. She tells me that if She had just posted it in the first category alone, and all sales had been from that listing it is likely that our clip would have made the top 50 site wide. Thanks to all that bought it. Enjoy! I know i did.