TweetThis year at Christmas time I decided to reprise my role as the Candy Cane Slut.  A few years ago, I posted a video clip at the behest of Goddess Nikki on the We Whip Ass site. There it was viewed by a number of people including a number of Dommes that wee members there. It was a hit there and over the years I have heard from a number of people telling me that they really enjoyed seeing me using all those Candy Canes, especially the big 2 lib one. This year I decided that it was time for the Candy Cane Slut to make another appearance. This clip is about a sissy dream Christmas morning.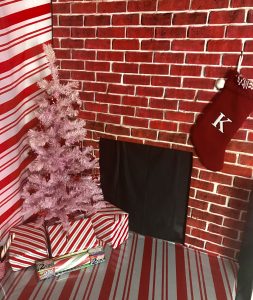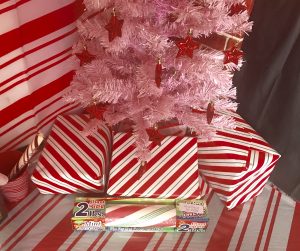 Here is the scene on Christmas Morning. Santa has been there and left a few presents. including a bunch of candy canes. My stocking is full of them, and i can't help but want to make use of them.
And I did make use of all of the candy canes in the video. I first use them one at a time and then work them all into me at once.  It felt good to get filled up. And soon I moved on to a few larger canes, dressed as a Candy Cane Slut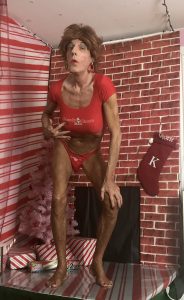 It says so, right o my two piece slutty outfit. Very convenient for this kind of activity. Not much to it, a spandex two piece with a thug. Both pieces proudly proclaim that I am, indeed, a candy cane slut. Next i used a thicker candy stick, which you can see in the back near the wall, in preparation for the big giant one that Santa put in the front of the the rest of the gifts.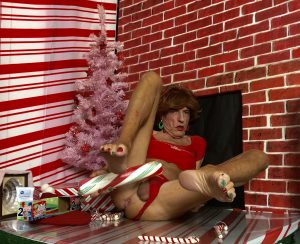 I haven't had this thing in me in years, but was determined to work it up my hole. With a little effort< i push it into me, and slowly start to work it in and out of me. In and out, deeper and deeper it went. It felt so good and eventually it got easier, and felt better, going in and out of me. I spent quite a bit of time forcing it in and out, in and out, spreading myself wide open. By the end of the clip I was pretty hot and open and when it was all said and done.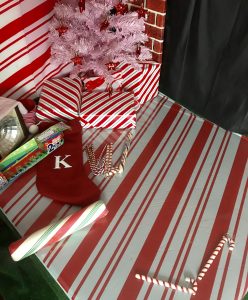 By the time i was finished pleasuring myself with that huge candy stick, i was totally stuffed, hot, and felt really good, when I finally got done with that big thing.
So if you want to see me spread myself first with a bunch of candy canes and then working  this super big candy stick up me, check out my C4S clip store by using the menu in the left hand panel for my most recent updates. As so many other have told me, you'll seeing me so and hot and open.