TweetIt;s Christmas Day and, of course, it is a time for giving and gifting. And we sissy types are no exception. So a few days ago, i wrapped up all of my gifts to Goddess Nikki to get them ready to send and first set them out under my pink sissy tree to check them out–and take a few pictures.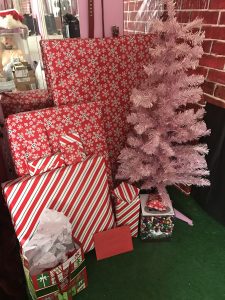 So here are all of the presents set beside the tree. As you'll see there are way too many presents to be able to fit in a single package so it will be a little challenge to get them out there.
In the meantime, since i am, in essence, a present of sorts to Goddess N, i decided to take a place next to the tree, appropriately enough wrapped my an outfit that doubles as a wrapped Christmas present.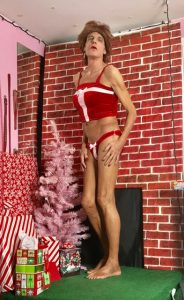 So here i am dressed as a gift, complete with a nice ribbon and box on my top as well as my thong panties.
I love this little Christmas time outfit and it is perfect for my purposes here, of course.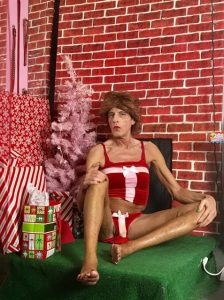 You can get a little better look at the gifts i sent to my Goddess.  There are a couple bigger presents. These are two forms of wall art to hang behind here that y'all will be able to see in Her video clips.  One a rather large canvas painting.  The other a group of three canvas type of renderings that hang together. lol The
Now the next thing as to get them packaged and sent out to Goddess Nikki.  I am always nervous about getting these things in packages and getting them sent—especially for a price that doesn't rival the costs of the gifts themselves.  But here they are after arriving at their destination,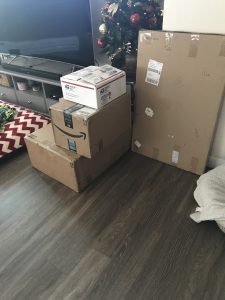 As you can see, there turned out to be four packages. Three that i had to send, and a forty one that was sent directly, as that was the only way to do it, based on availability of the item. One of the packages contained things that we, both my Wife and i, sent to Goddess N and Her family.
The only thing left to worry about now is whether or not everyone likes what we sent. Hopefully it will be a Merry Christmas for all of us! So I want to wish everyone a Very Merry Christmas, and Especially Goddess N and her family!