TweetA few weeks back Goddess Nikki surprised me by sending me this text: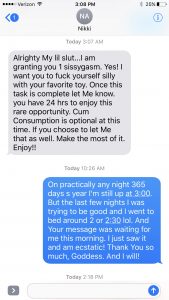 As you can see, it came out of the clear blue—and so could this club. To say i was thrilled was an understatement. i have been locked up for awhile now, and unable to experience an orgasm of any kind for almost as long. So i was really horny and hot. This my Goddess was aware of this, and while most of the tie She doesn't give a shit, She took pity on me this time—and She likes to keep me all worked up and playable.  Letting me know what i am missing occasionally is one good way to do that.
So i immediately set out to do have a sissygasm that very evening.  First i got all dolled up. i have been wearing lime green since my toes are painted that color. And since i always am supposed to be all dolled up, when i get myself all worked up, i put on an outfit that matched my toes, plugged myself and grabbed my stool so i could grind down on my plug!  Before too long, i experienced a good sissygasm. i did;t film any of it, since i was in such a hurry to cum, but i did eat all my delicious cum, as instructed. Then, i  proceed to tell my Goddess all about it in a late night text.
But much to my further and complete shock, She then said to do it all again the very next evening. This time She said She didn't care how i went about doing it, but implied that She wanted e to do it differently and really fuck myself long and hard to a nice wet sissygasm.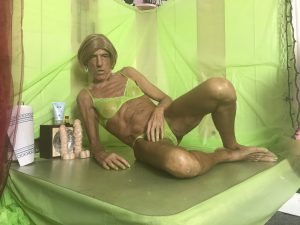 So again i got dolled up, again in lime green, and using these dildos i fucked myself to orgasm. It felt so good. But at the end of the fuck session i found myself wanting to suck that dildo in a long ass to mouth conclusion.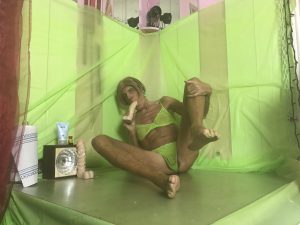 It tasted yummy! my Goddess ha been fucking with my mind for so long that i've really grown to love the taste of my hole.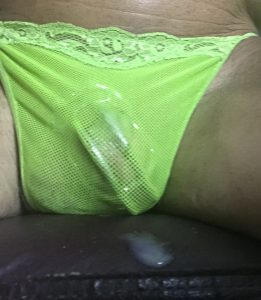 That left my caged stick dripping my cum out of my cage and through my panties!
This video, which turned into a sissygasm fuck fest, lasts over thirty minutes and really shows sissy subbie sex.
You can see for yourself at my Clips4Sale store.