TweetToday is Halloween, and as we are getting later into the night, i want to share a Halloween clip that takes place in a cemetery late at night.  Halloween is traditionally, besides being spooky, is a special day for many sissy types, since it allows us to dress as we feel.  I also want to wish everyone, especially Goddess Nikki a Happy Halloween.  As has often ben the case, I celebrate these holidays with my version of an e-card.
Here's my card, and my clip is an extension of this card. Krissy, being horny-as always-goes looking for her lifetime boyfriend to have some fun.  I get him up, and since he is less than cooperative at first, I see to revive him, so to speak, and I start by kissing in order to get his attention.
Eventually after some kissing, he begins to stir and finally he is as turned on as I am to the point that I see the gleam in his eyes. And he begins to sport a nine boner.  This setting gives that a literal meaning for sure.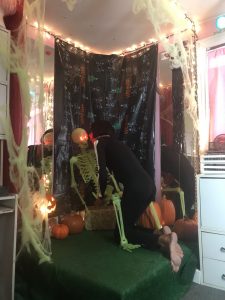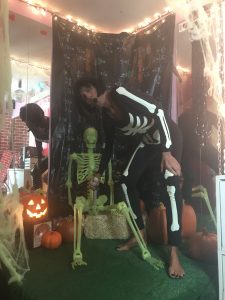 Once he get hard, I can't help but to give this bone some oral attention. Once I get my fill of that I literally jump his bones.
This Halloween clip is full of sissy cuteness.  The kind that Goddess Nikki lies to see Her sissy display–both for Her and everyone else that She decides to share it with.  You can see it too.  It's now uploaded in my latest update to my clip store at Clips 4 Sale.  Cum take a look, as I give a new definition to jumping one's bones!