TweetWant to wish all of my readers here and followers on twitter a Happy Valentine's Day. Especially want to wish a Very Happy Valentine's Day to my Goddess @EroticNikki. On this very special day between those of have a special relationship whether romantic or otherwise, as Goddess N and i have, this is a day that we want to make sure that we let that special other person know how we feel.  By telling that person, of course, but also by sending cards or giving gifts.  i, of course, sent something Goddess Nikki's way and it is at Her home waiting for delivery to Her.  i'm pretty sure that She is going to like what i sent. However, i can't mention what it is yet since i don't want to spoil the surprise.
In the meantime, i did what i always do on holidays. i filmed a clip marking the occasion to amuse Her.  She likes to see what lengths i will go to please Her publicly on the world wide web. lol So i filmed a clip using an Valentine's Day outfit that She gave me at Christmas. It is a sheer see-through two piece outfit especially made for sissy types like me covered in little pink hearts with little bows as appliqués.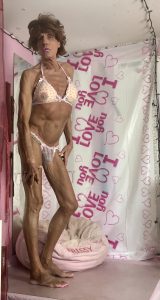 Here's a picture i took for this occasion. See how cute it is. Also, how cute i am wearing it. It's so adorable.  It is tiny and doesn't hide anything. You can clearly see my chastity right through my panties.  The chastity has shrunk smaller and smaller over my time with Her, while She attempts to down size my stick and render it useless eventually.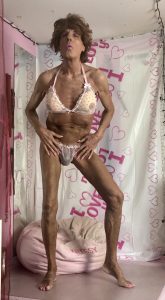 Here's a good look at what i am talking about to the left. Good view of my chastity that fits in this panties nicely. So after showing my new Valentine's Day outfit and where it came from i take my two matching pink two candy like toys and use them where i usually do on myself. First the smaller one, that actually fits all the way inside me and then it's on to the big 3 inch wide candy.  That one is a little harder to get in and out, but it feels oh so good.
This time i have uploaded this Valentine clip to my new account on Only Fans. You can see this clip, others video clips I have also uploaded, along with other pics i have uploaded, and will continue to upload there.  http://www.onlyfans.com/KrissyTannen