TweetRecently Goddess Nikki "recommended" that i purchase a pair of sissypouch panties that She saw on the net.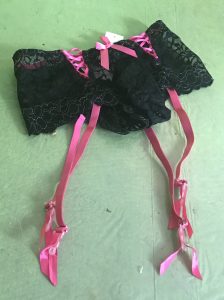 As you can see they are very sissy like. All lacy and frilly.  Nice sissy pink accents—and attached garters.  But they aren't called sissy POUCH panties for nothing.  There is a little pouch sewn in to the front of the panty to hold, in my case, my caged stick. But i think the thing that really sold it, was the garters which would force me to go the whole sissy deal with stockings. i haven't worn them for years as most of them clash with my tanned legs.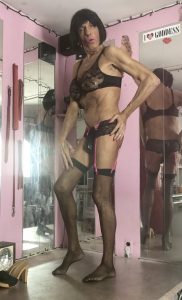 Obediently, her i am, wearing the panties with stockings. Nice sexy black stockings. Since the accents were sissy pink (what else would you expect) i decided to do the same. Pretty pink nails and toes. Pink eye shadow and bright pink lips!
Actually it felt kind of good to be wearing stockings. Got off on how my painted toes looked in them. The completeness of my look got me going as well. Since the purpose of this exercise was not only to show them off, but to see how they held up to my slutty endeavors on film.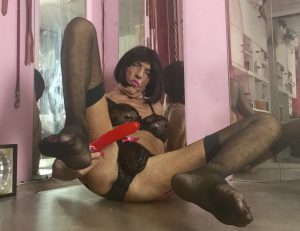 Therefore in an effort to"test" them lol i decided to see how they looked while i fucked my hole.
Obviously, in an effort to carry out my pink them, i used a pink dildo.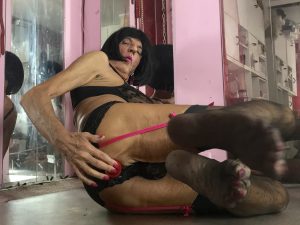 So take a look at the latest update at my Cl4S Clips Store and see me take my sissy pouch for a test ride. The latest update are displayed right here, or check out my entire clips store by using the menu bar about