TweetWishing all Christians a Happy Ester! And a special Holiday weekend  Shout Out to Goddess Nikki and all my followers here and on twitter. This year, since Goddess N was traveling home to Texas, Her gift from me ws build to travel. Who's says you can't take it with you!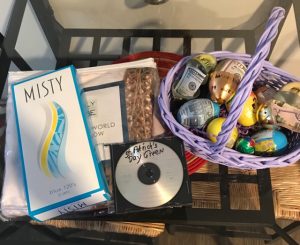 t right is the picture that Goddess N took when the package reached Her. It was all about Easter eggs.  Some filled with candy, i reasoned,She could just slip into Her travel bag and take along on Her trip, The other eggs were filled with Her fav–money>  She obviously will need some walking around money.  And latest the ubiquitous cigarettes were included as well.  Since Goddess N likes to show Her sissy off, i also included a disc with my St. Patrick's Day offering.  My Goddess has told Her family all about me and they have seen me on many occasions. So I thought that since I tied my St. Pat's clip to something that happened involving them, I would share it with them.
Since another holiday is upon us, I have, of course, updated my clips store with another clip to amuse my Goddess and entertain everyone else.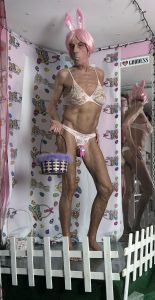 So, at the beginning of this holiday clip, i am wishing everyone  happy day and reminding everyone that krissy helps the Easter Bunny deliver his eggs, by providing sissy eggs to all the sissies waiting for them.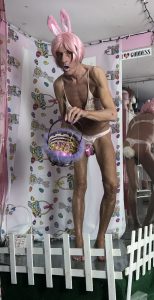 Here;s several of the eggs in my sissy Easter basket.  Notice the nice faux fur on my basket. Each egg, however, is specially made by krissy cottontail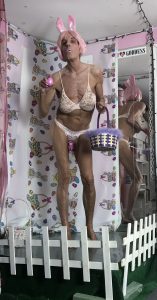 I'm holding one of my sisssy eggs so you can see one clearly.  Each one comes out sissy pink.  You may also notice that they are much bigger than eggs one would normally find at your local market. That is necessary, since size does matter to sissies.
But the trick is in the tail, as those of you who know me may recall.  This sissy Easter Bunny makes these eggs as only Krissy Cottontail can.  She lays them!!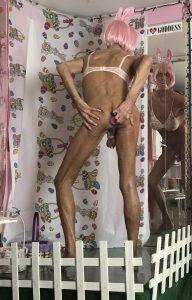 So why not take a look and see them being laid up close and personal.  This sissy bunny lays more than one and she does it without taking a break in between the eggs.
Since this holiday offering is short, i have added a prequel to the laying of the Easter eggs. i show everyone how i get ready for a clip and making myself ready to lay the eggs. Check it out by clicking on the image in my Recent Clip updates to the left. Or check my entire store by using the menu bar at the top of this blog.